June 25, 2020
---
Securing the Health Sector: COVID-19 and the Use of Thermal Detection Cameras in the Health Care Environment
With the ongoing pandemic, some of the most at-risk responders are those working in health care settings. Precautions must be taken for all patients entering a health care facility, whether or not their visit is for COVID-19 symptoms.
June 26
1-2 p.m.
Webinar
Transition to Ending of National Guard Testing Assistance
The Georgia Army National Guard is continuing to support COVID-19 testing requests submitted via WebEOC; however, this mission will begin wrapping up soon for the mobile testing teams (MTT).
GEMA to Provide Infection Control Supplies to LTCF'S
The Georgia Emergency Management and Homeland Security Agency has purchased disinfectant supplies for long-term care centers across Georgia. This includes skilled nursing facilities, assisted living facilities and personal care homes that are 25 beds or more.
Georgia DPH Asks Residents to 'Answer the Call' in New Contact Tracing Video
The Georgia Department of Public Health (DPH) is releasing a new video explaining the state's COVID-19 contact tracing efforts, asking residents to 'answer the call' if DPH reaches out.
Dear Colleague: Call to Action Letter from the Director of NCIRD at the CDC
The COVID-19 pandemic is not the only health threat in our midst. During these unprecedented times, CDC is asking for your help in protecting our communities through vaccination. Maintaining coverage levels for vaccine-preventable diseases, preparing for the upcoming flu season, and working to protect at-risk and vulnerable populations are crucial activities. The vital roles you play in protecting communities are more critical than ever. Please see the CDC NCIRD director's requests in the attached letter, which highlights several CDC resources.
MMWR: Potential Indirect Effects of the COVID-19 Pandemic on Use of Emergency Departments for Acute Life-Threatening Conditions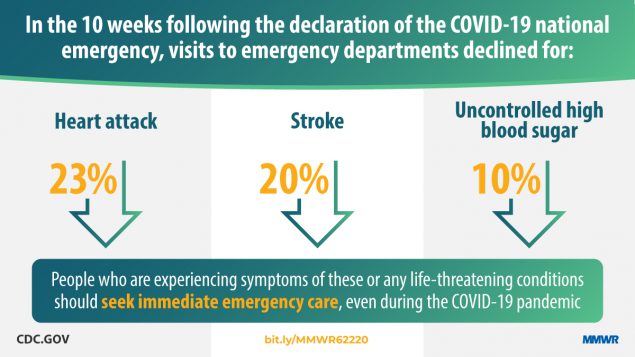 On March 13, the United States declared a national emergency in response to COVID-19. By May, national syndromic surveillance data found that emergency department (ED) visits had declined 42% during the early months of the pandemic.
Health Care Facilities: Managing Operations During the COVID-19 Pandemic
The COVID-19 pandemic has changed how health care is delivered in the United States and has affected the operations of health care facilities.
CDC HAN Health Advisory: Detection of Ciprofloxacin-Resistant, β-Lactamase-Producing Neisseria Meningitidis Serogroup Y Isolates
Meningococcal disease, which typically presents as meningitis or meningococcemia, is a life-threatening illness requiring prompt antibiotic treatment for patients and antibiotic prophylaxis for their close contacts.
Younger Adults Are Increasingly Testing Positive For The Coronavirus
As much of the country presses forward with reopening, a growing number of cities and states are finding that the coronavirus outbreak now has a foothold in a younger slice of the population, with people in their 20's and 30's accounting for a larger share of new coronavirus infections.
Suspected Drug Overdose Increases in Georgia Amid COVID-19
Over the past several weeks, our syndromic surveillance (SS) system has picked up increasing drug overdose-involved emergency department (ED) visits throughout Georgia. The Georgia Department of Public Health (DPH) needs your help to determine if an increase in drug overdoses is truly occurring before initiating further public health response, and we are alerting partners to be vigilant about any unusual drug overdose activity.
Florida Reports Nearly 4,000 New Coronavirus Cases, a Record Single-Day Increase
Florida announced a record number of new coronavirus cases, adding almost 4,000 reports for a total approaching 90,000.
California Hits Record 4,000 Cases in a Day; Mask Order in Place
The economy continues to reopen but masks are now mandatory in public across California as the state, nation and world continue to grapple with the coronavirus pandemic. Gov. Gavin Newsom said the state was "seeing too many people with faces uncovered – putting at risk the real progress we have made in fighting the disease."
The Coronavirus Disease is Spreading Rapidly in Rural Georgia
As summer approaches and as Troup residents are seeking to return to their normal routines, local officials are scrambling to remind them the pandemic is still raging. Meanwhile, they are handing out free cloth masks.
Hospital Bed Capacity Helps States Measure COVID-19 Spread. Here's Why It Matters
Public health officials are sounding the alarm as hospital beds fill up and some states experience their first peak in cases. More than 60% of inpatient beds across much of the East Coast, Southeast and West Coast are occupied, according to the CDC.
COVID-19 Lawsuit Liability Protections Pass in Georgia Senate
The Georgia Senate passed legislation aimed at shielding businesses and health care providers from lawsuits filed by people who have contracted coronavirus since March.
Fauci: Next Few Weeks Critical to Tamping Down Virus Spikes
The next few weeks are critical to tamping down a disturbing coronavirus surge, Dr. Anthony Fauci told Congress — issuing a plea for people to avoid crowds and wear masks.
Earthquake Felt in 6 States Leaves at Least 4 Dead, 30 Injured in Oaxaca
At least four people were killed and more than 30 others were injured in a 7.5-magnitude earthquake that rocked southern and central Mexico on Tuesday morning, authorities said.
---
Resources and Reminders
Attention: Hospital Surveys on WebEOC
Please remember to update your WebEOC dashboard by noon. SEVEN DAYS PER WEEK. Note that WebEOC data is submitted by the state on your behalf to meet FEMA data requirements.
Hospitals Needing Medical Supplies and PPE
The Georgia Department of Economic Development shared a list of Georgia manufacturers who are producing essential medical supplies and PPE for hospitals.
Additionally, Accenture, Avanade and Microsoft have created Critical Suppy Connect to help health care orgainzations search for critical supplies and connect with suppliers. New users can register here.
Georgia Staffing with Furloughed Georgians
The GHA Resource Pool by Aya Healthcare is helping match qualified furloughed clinicians with facilities that need additional local staffing during the COVID-19 crisis.
Clinicians looking to participate in the Resource Pool should go here to complete a short form about profession and specialty.
Health care facilities needing more information should email staffing@ayahealthcare.com or GHA Senior Vice President of Business Operations Bill Wylie.
Reporting Cases to DPH
COVID-19 is a reportable event.
Hospitals are legally required to report positive and negative test results to the Georgia Department of Public Health prior to notifying the media. Negative test results are reported in the same way that positive tests are reported. See DPH requirements for reporting COVID-19.
Deaths should also be reported. Hospitals should report deaths the same way they report a confirmed positive. If a case report was created before a patient's death, DPH still requires notification.
All of the above can be done by emailing contactpublichealth@dph.ga.gov, calling 866-PUB-HLTH, or contacting the health district of the patient's residence. DPH sends death notifications to the CDC so hospitals do not need to submit there.
State of Georgia COVID-19 Emotional Support Line
The Georgia COVID-19 Emotional Support Line provides free and confidential assistance to callers needing emotional support or resource information as a result of the COVID-19 pandemic.
Battelle CCDS Critical Care Decontamination System™ Services Available at No Charge
Battelle announced that its decontamination services for N95 respirator masks will be offered at no charge to health care providers in an effort to help protect the workers on the front lines of the COVID-19 pandemic.
Instructions for Health Care Facilities
Battelle Emergency Use Authorization (EUA)
Reminder: Identify, Isolate and Inform!
Identify, Isolate and Inform: It is important to continue to ask travel questions. The purpose of this notice is to remind health care providers about actions to take in Georgia when evaluating patients for possible serious communicable diseases!
Travel Clinical Assistant (TCA)
The Travel Clinical Assistant provides post-travel clinical information on travel-related diseases for 231 countries. Diseases with recent outbreaks occurring in the last two years are listed first.
---
Newsletters
ASPR TRACIE: COVID-19 Resources June Update #2 – June 2020
Blue Bulletin Campaign – June 2020
HPH Sector Highlights – Health Care Supply Chain Edition – June 2020
HHS Region 4 Health News – June 19
HHS Region 4 Health News – June 23 
HPP Weekly Update – June 15
HPP Weekly Update – June 22
MESH: Postmortem Specimens from Deceased with Known or Suspected COVID-19 – June 17
MESH: Mosquito-Borne Diseases – June 19
MESH: CDC Warns, Resistant Meningococcal Strain Circulating US – June 22
MESH: Joint Commission Survey Considerations – June 23
MESH: Use of Masks to Prevent COVID-19 in Health Care and Community Settings – June 24
News and Notes – June 12
On the Front Lines – June 20
---
Emergency Preparedness Education Opportunities
June
Securing the Health Sector: COVID-19 and the Use of Thermal Detection Cameras in the Health Care Environment
June 26
1-2 p.m.
Webinar
You must register in advance.
HURREVAC Training
June 22-26
2 p.m.
Webinar
August
Preparedness Summit
August 25-27
Virtual
---
Online Preparedness Tools – Tips & Tricks
Click HERE to go to the GHA911 homepage.
---
Click HERE to add your facility to WebEOC.
---
Click HERE if you do not have an Everbridge account and would like to sign up.
---
Accessing Tech Support
Lanetta Mathis is GHA's Emergency Preparedness Communications Manager. Contact her at Lmathis@gha.org or 770-249-4532/ 229-591-8794.
---
---
Future Meetings
Click here to view all GHA meetings.
Resources
CDC COVID-19 Guidance
Find COVID-19 resources for Healthcare and Long-Term Care Facilities from CDC.
GHA Coronavirus Information
Find COVID-19 (Coronavirus) information and resources.
Ebola
Don't forget the Department of Public Health (DPH) offers answers to your Ebola questions.
State Epidemiologist
24-hour access to a State Epidemiologist: 1-866-PUB-HLTH.
GHA Flu Page
GHA's flu page provides links to articles and information about the flu in Georgia.
Opioids
GHA's opioid pageprovides information and resources about opioids.
CDC Information
Visit www.cdc.gov to stay up-to-date on current information.
Disaster Mental Health
Visit Georgia's Disaster Mental Health
Website
Visit The Georgia Crisis and Access Line (GCAL) to
access behavioral health services.
SAMHSA: Preventing Suicide
Visit the suicide prevention resource page.
**If you need to reach GHA for a Disaster/Emergency Preparedness related issue after hours, please contact 
Adrianne Feinberg
, (678) 427-2979 or
Lanetta Mathis
, (229) 591-8794.
The Disaster Readiness Line is circulated by Georgia's Healthcare Coalitions to our emergency preparedness partners.